CLI Leadership & Staff
Mia Steupert, M.A.
Research Associate
Mia Steupert serves as Research Associate at the Charlotte Lozier Institute, where she conducts and edits research on a variety of topics related to science and statistics for life.
Prior to joining CLI, Mia was a research intern at a conservative think tank where she  focused on the inner workings of Planned Parenthood and sexuality legislation at the federal and state levels. Mia also interned at the Institute on Religion and Democracy where she wrote articles for their blog on politics and the Catholic Church.
Mia holds an MA in Government with a concentration in law and policy from Regent University and a BA, cum laude with distinction, in Political Science from Emmanuel College. Mia has completed two thesis papers- a graduate thesis on Catholic sexual ethics and an undergraduate thesis on the American nuclear family and government policy.
In her free time, Mia likes to read and write about Catholic theology, play softball and golf, spend time with her family and watch sports.
Research Authored
Fetal Development
For this CLI summary, the usage of "gestation" reflects Florida's definition of gestation in 2021, which is synonymous with post-fertilization age and is different than the definition that is commonly used based on a woman's reproductive cycle.
Mia Steupert, M.A.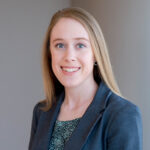 Tessa Longbons