Scholar
Katherine Rafferty, Ph.D., M.A.
Associate Scholar
Dr. Rafferty is an associate teaching professor at Iowa State University and previously worked as a health communication specialist for the Centers for Disease Control and Prevention (CDC) in Atlanta, Georgia. She conducts research that lies at the intersection of interpersonal and health communication, with a focus on how patients and families manage and cope with chronic illness and end-of- life care. She is primarily a qualitative scholar but has also used quantitative methods to examine research questions about family health communication. Dr. Rafferty earned her Ph.D. in communication at University of Wisconsin-Milwaukee. More information about her current research can be found at http://www.familyhealthcomm.com.
Research Authored
Press Release
Nearly 70% of women with a history of abortion describe their abortions as inconsistent with their own values and preferences, with one in four describing their abortions as unwanted or coerced, according to the study published in the medical journal Cureus.
David C. Reardon, Ph.D.
Katherine Rafferty, Ph.D., M.A.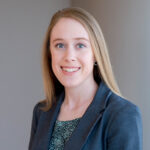 Tessa Longbons